My home state Kerala has an incurable addiction - Communism. Our ideological gurus, the beacons who had showed us the course in the fifties and the sixties - the Russians and the Chinese have fallen or adopted a brand of capitalism that is their own. But Kerala staunchly remains in the race to claim the title as the last bastion of Communism in the world - being nestled inside a democratic framework surely helps.
Many a time a thought crosses many of us - the ex-Keralites(or non-resident Keralites), that we should put all these Communists in a real communist state like China or North Korea and let them 'enjoy' the fruits of the system. Since that is practically impossible, the next thing would be to show them a movie, made by the intellectuals who had languished under the Communist regimes in different parts of the world. The 2006 Oscar winner for the Best Foreign Film, The Lives of Others is one such film.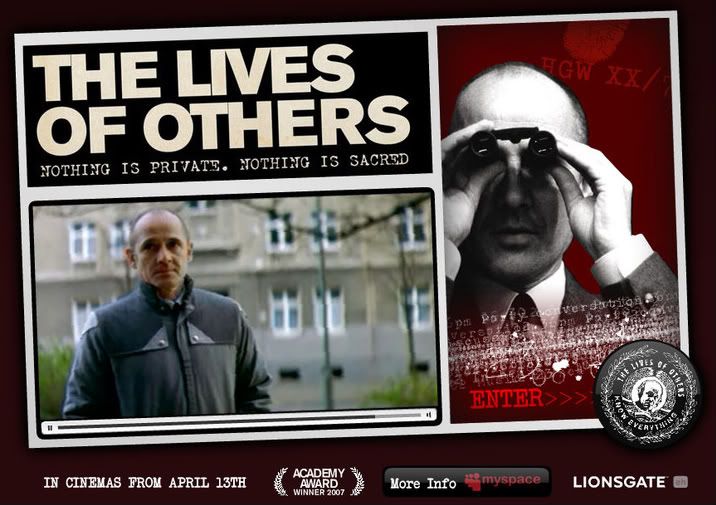 I don't think a few movies can cause much damage to my Communist brethren. Their genes are hard-coded with principles, first created in nineteenth century Europe as a cure for a vastly different world order. But this movie is a gem, worth a watch for anyone following any kind of '-ism'. An incredibly true-to-life portrait of the life of people under the eagle eyes and iron hands of the former East Germany regime(German Democratic Republic.)
The film starts in the early eighties where a
STASI
officer, amongst other things is put in charge of a surveillence-wire tapping operation on a prominent German playwright. How the officer gets entangled in 'the lives of others' he is supposed to keep a watch on, without being physically present, forms the crux of the movie.

Florian Henckel von Donnersmarck
, the director-script writer has done a job par excellence. The film's 56 wins and 22 nominations at various film festivals across the globe speaks its merit.
Although the film starts off slowly, it become pretty intriguing and builds up to a crescendo in the second half. The work of all the actors, especially the one who played the central character of the STASI officer(Wesler),
Uhlrich Muhe
is commendable. The last hour of the movie is what carries it to the realm of the classics. It has one of the best endings I've seen in a movie of our times. Review: 5 *****